A unique franchise opportunity with real social benefit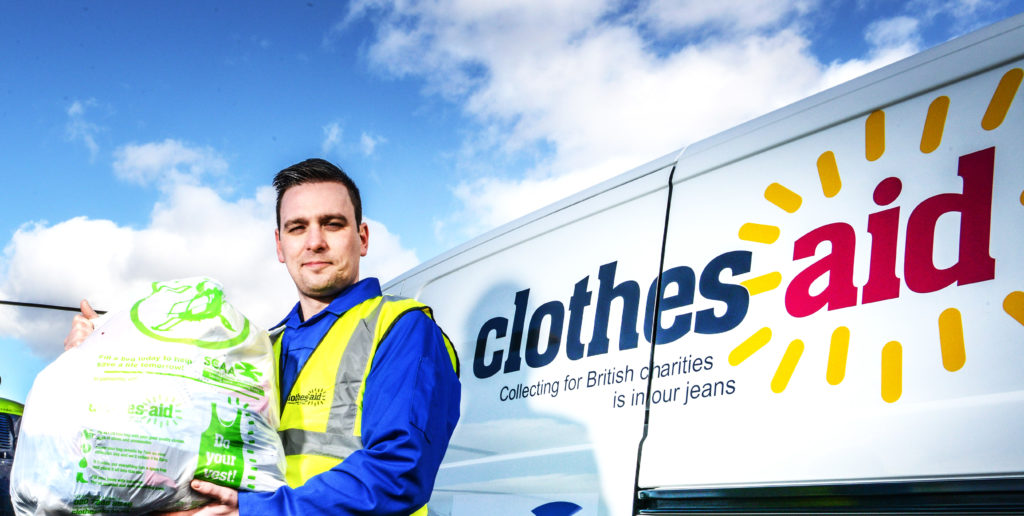 Limited opportunities are available across Scotland, Staffordshire, Cheshire, Wales & Bristol!

View all Areas
By joining us at Clothes Aid, you'll be an integral part of the biggest network of clothes collectors in the UK, an organisation that raises over £1 million a year for British charities.
Our unique business model offers an opportunity to realise consistent earnings potential, receive comprehensive business support, and benefit from our trusted, long established brand (20+ years!).
As part of our current expansion, we're seeking new franchisees across the UK to operate within their local areas. As such, there are a limited number of opportunities available. Find out if a Clothes Aid franchise is right for you:
Why Invest in a Clothes Aid Franchise?
Low Cost Franchise Investment
A Clothes Aid franchise requires an appropriate vehicle,
and £6,200(+VAT) of capital to invest into the business.
Compared to many others, we offer a low-cost franchise,
but this has no impact on your potential income.
Consistent Earning Potential
Our network collects over 50,000 clothing bags per week
within the UK, creating potential for predictable and
dependable supply of revenue. Earning potential for your
first year is £25,000-£45,000, subject to response.
Expert Guidance, Training & On-going Support
With over 20 years of supporting Clothes Aid franchisees,
we're committed to providing comprehensive induction
training and practical ongoing support, backed by our
proven systems and business model.
Quick to Start Earning
With our comprehensive support, as a new franchisee
you can be generating income within the first two to
three weeks of starting your business.
Postcode Area Exclusivity
More than 45,000 households donate clothes to Clothes
Aid each week because the service is hassle free, and
supports great causes. Our franchisees benefit from their
own postcode area (typically 50-60,000 households) to
collect their share of this dependable on-going supply.
Investment in Yourself
Our Franchise Opportunity allows you to realise the true
benefits of self-employment, with flexible working hours,
consistent income and growth potential that meets your
ambitions. For example, a number of our franchisees
manage mini-teams who collect on their behalf.
How does the Clothes Aid Franchise Work?
The Clothes Aid franchise offers the opportunity to build your own business backed up with the help and support of an experienced and substantial organisation. Not only can your business produce good income and profits, but you will be part of a unique network that has huge social benefits.
Our business model is simple – our franchisees manage small teams (two to four people per team) to arrange the distribution of charity bags followed by the collection of clothing donated by households in their chosen area. The clothing collected is bought by weight, and sold to third parties, generating an income with a proportion of Clothes Aid funds going to nominated British charities.
As a new franchisee, you'll need access to a van with the capacity to carry at least one tonne of clothing. Each team will also need a household collection licence, or a national exemption certificate. As your main support, this is part of our role; every year we obtain hundreds of licences from local authorities on behalf of our franchisees.
As a franchisee with Clothes Aid you can either be a single van franchisee (where you carry out the bag distribution and collection work with a small team) or you can build the business into a multi-van franchise (operating out of an industrial unit) where you eventually take on the role of the business manager. Both options have significant financial potential in relation to the income and profit that the business can generate and the money that we raise to support our charity partners.
Frequently Asked Questions